Protecting Your Business' Trade Secrets
Many times, a company's trade secrets are its most valuable assets. Whether it's a formula, a method, a technique or a process of the way you do business that sets you apart from the competition, the protection of trade secrets is critical to the success of your business. Trade secret protection is completely different from other kinds of intellectual property protection and should be handled by an experienced attorney.
Non-Disclosure, Confidentiality and Non-Compete Agreements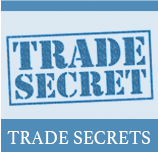 Non-disclosure agreements, also referred to as confidentiality agreements or NDAs, are the only way to ensure that your trade secrets are kept private. You should not share trade secrets, which include non-published patent pending inventions, with anyone who does not absolutely need to know about them. Anyone you do choose to share them with, however, should sign a non-disclosure agreement before any trade secrets are revealed.
Another important consideration in protecting your trade secrets involves employees. Competition is stiff in today's market and businesses will do almost anything to get ahead, including poaching your employees. Some employees can have knowledge of sensitive information about their company's processes. Non-disclosure and non-compete agreements can help to ensure that your trade secrets are safe should the employee ever choose to leave.

At iLex we represents businesses injured by trade secrets theft. Trade secrets are confidential, sensitive, and / or proprietary information that give a business a competitive advantage by being known only to the business's insiders.
Trade secrets can be among a business's most valuable assets. They may include, among other things:
• proprietary software
• customer lists
• designs
• ingredients
• formulae
• methods
• techniques
• processes
• devices
• patterns
Theft of Trade Secrets Litigation
Businesses that sustain losses from trade secrets theft may file lawsuits to the court. The law allows a business to file an action in state court for theft of information that:
• is not generally known in the particular area of business
• the possessors take reasonable efforts to keep secret
• provides independent current or potential economic benefit to the possessor(s) as a result of its secrecy, and
• cannot be easily (and legally) discovered or reverse-engineered by others who would also derive economic benefit from its use