Trademarks arise from using words, logos, and the like in connection with selling goods and services. Most registrars award domain names on a first come, first served basis and do not undertake a complete trademark search for each proposed registration. the same is sitation with .am domain.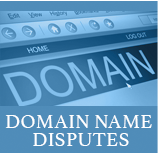 Consequently, significant legal issues involving trademark or trade name conflicts can arise from registration of a domain name.
Similar, even identical, word marks can be simultaneously registered as trademarks by unrelated businesses on unrelated goods.
You should expect to own and use your domain name. However, a trustworthy and knowledgeable lawyer may be needed if you are engaged in a dispute, or your desired domain is owned by a "cybersquatter". Cybersquatters can happen to any individual or business, and can result in one using your ideas, trademarks, or copyrights for personal gain.
When it happens to your domain, it's a commercial threat that needs to be eliminated.
Questions to ask yourself as you consider this course:
Is it possible the registrant has trademark rights in the domain name?
Is the domain name some other name that is otherwise commonly used to identify the registrant?
Has the registrant made use of the domain name in connection with a bona fide sale of goods or services prior to dispute?
Is the registrant using the mark in a noncommercial or fair use way at a web site accessible at the domain name?
Is the registrant attempting to divert consumers from the trademark owner's website in an attempt to harm or tarnish the trademark mark?
Has the registrant offered to sell the domain name to the trademark owner (or anyone else) for financial gain without having any intent to use it?
Has the registrant behaved in a pattern of registering and selling domain names without intending to use them in connection with the sale of goods or services?
Contact iLex Law Firm Today
If you know of a domain name that is infringing on your trademark or person, let us help you take control of this case. Or, if you have registered a domain name that is being used properly, but a large corporation is trying to obtain it, you need our expertise to help you maintain control of your rights.